The Speed of Oxidation of Metal Surfaces
Oxidation is an important process in the corrosion of metals, with well-known devastating consequences. In the humid atmosphere of our blue planet this process is commonly driven by contact-potential differences of surfaces, which are covered by a layer of ions containing water. Gold surfaces in electrolyte solution such as H2SO4 represent a suitable model system and we have already obtained some information about the structure of the oxides, which form at positive electrode potential. The dynamics of the structural evolution could be seen by using the brilliant beam at the ID32 beamline. High energy X-rays (17.0 keV) were able to penetrate the thick layer of electrolyte above the sample in the electrochemical cell (Figure 1) and so the surface X-ray scattering signal could be measured in real time.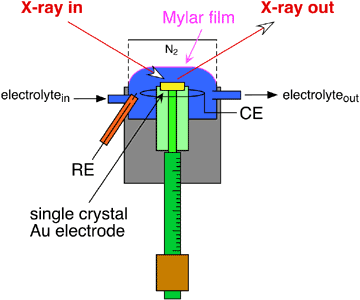 Fig. 1: Three-electrode electrochemical cell with a thick-layer configuration for in situ surface X-ray scattering measurements. CE = counter electrode; RE = reference electrode.
The cell was mounted on the ID32 Kappa-diffractometer and the intensity of the (01L) crystal truncation rod (CTR) was monitored at L = 0.2 with the Au(111) and Au(001) surfaces immersed in 50 mM H2SO4. Figure 2 shows the scattering intensity while scanning the applied electrode potential in the positive (a) and negative (b) direction at different speeds. In the negative potential range (i) the Au surface is oxide-free but reconstructed. The intensity increases when in the positive direction the clean surface assumes its bulk-like structure (the reconstruction is lifted) (ii) and decrease sharply (iii) when an oxide film forms around 1.2 V. In the negative scan, the oxide is removed at around 0.9 V and the intensity increases again (iv). The intensity decreases when the surface again reconstructs (v). It is obvious that the speed of formation and reduction of the oxide is very different for the two faces of the gold with the formation being much slower for the (001) surface.

Fig. 2: Potential dependence of the CTR scattering from Au(111) and Au(100). (a) positive scan direction, (b) negative scan direction. Black, blue, and red circles represent the scan rate of 1, 10, and 100 mV s-1, respectively.
Authors
T. Kondo (a), S. Takakusagi (b), K. Uosaki (b) and J. Zegenhagen (c).
(a) Ochanomizu University (Japan)
(b) Hokkaido University (Japan)
(c) ESRF