#weekendusers Searching for the secrets of butterfly colours
19-10-2017
Butterfly colour has always amazed scientists, who are trying to find the origins of these vivid tones in order to maybe one day be able to reproduce them. Researchers from the University of Sheffield (UK) have come to the ESRF to study the subtle differences in the structural colour elements of Heliconius butterflies, and link them to the genetics that controls these structures.
In the Mashpi Reserve, in Ecuador, Heliconius butterflies fill the sky with their colourful wings. The Sheffield team goes there periodically to collect butterflies for their experiments, which exhibit a variety of dazzling iridescent hues.
These butterflies also form "mimicry rings", where several species in one area share extremely similar colour patterns. Colour patterns indicate toxicity in this group and sharing colours with other species confers a benefit through a learned shared avoidance by predators and reduced cost of educating the predators. So how have they evolved such similar patterns?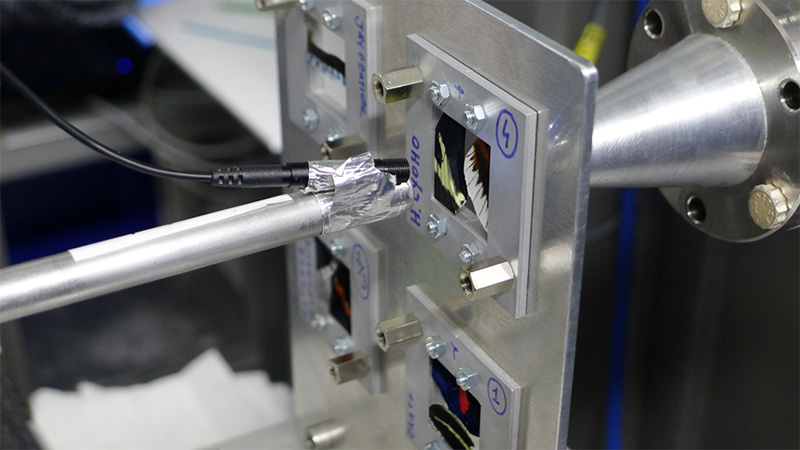 The sample on ID02.
To shed light on this question, the team is this weekend working on ID02, where they plan to use USAXS to correlate the genetic information on each individual specimen with the structure of the butterfly scales for 8 subspecies. Andrew Parnell, main proposer of the experiment, explains the benefits of ID02 in their research: "The large dynamic range of ID02 and the fast acquisition times makes this a really powerful instrument and enables us to map large sample areas of the butterfly wing architecture needed to draw comparison between the many different butterflies in this comprehensive study".
Two different sets for the same research: ID02 hutch (left) and the Mashpi Reserve in Ecuador (right).
Nicola Nadeau, from the team, explains: "We aim to find the genes that control individual variation in wing scale structure by performing a genetic association study, with results from ID02 and individuals' DNA sequences. Identifying the genes controlling how these structures form may help us to design low cost photonic devices using what we learn from nature, so called biomimetic design."
Text: Montserrat Capellas Espuny