Another year has gone by with industrial research becoming increasingly important at the ESRF. We have reached our goals in terms of commercial revenue (5% increase from 2015). Our clients continue to come to us for high quality data and solutions to their scientific challenges with new opportunities opening thanks to the Upgrade beamlines. The Structure of Materials and Structural Biology beamlines now both lead as the most sought-after areas of research of our commercial clients (Figure 142).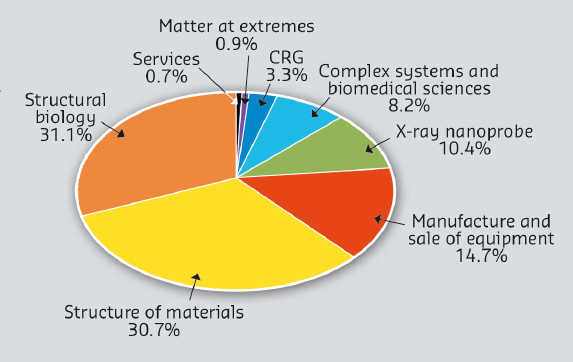 Fig. 142: Where the ESRF's 2016 commercial income was realised.
We have strengthened relations with companies with the aim of fostering longer term collaborations through different channels. Examples include the workshop on Synchrotron Applications in Pharma Innovation and Research, organised by AstraZeneca in autumn 2016 with ESRF and MAX IV (Sweden). Both the ESRF and MAX IV had the opportunity to highlight their complementary capabilities in pharmaceutical research. At AstraZeneca we heard first-hand what the research and innovation (R&I) challenges are for the coming years in pharma and biotech companies. Other examples of collaboration are a post-doctoral researcher position funded by OCAS, a research centre in Belgium that develops alloys and coatings, which was catalysed by a non-conventional imaging workshop for industry held at the ESRF, and the visit of a thesis student working for Jaguar-Land Rover over the summer to investigate automotive safety foams.
Our networking is not exclusive to the Business Development Office (BDO) staff; the scientific and engineering staff at the ESRF are heavily involved in spreading the word and communicating to industry the opportunities that we offer. Their contribution to the industry programme is invaluable and we encourage more staff to keep industry in mind when they go to conferences or seminars. This intrinsic closeness with the beamline staff has led to a move of the Business Development Office from the Directorate to the Experiments Division at the start of 2017.
Growing sales
The ESRF has a rich vein of instrumentation design and know-how which is being increasingly developed as a commercial resource. Particular areas are where the know-how of the ESRF has translated into the creation of specialised production laboratories, where skilled professionals create material for modern synchrotron sources. Crystal analysers, newcomers in the sales portfolio at the ESRF, are now the "bestsellers" of the ESRF. They are followed closely by very high performance scintillators, which have been sold to many synchrotrons around the world.
Marketing and communication
In 2016, we carried out a survey amongst our clients with the aim of improving our communication towards them. A vast majority requested an industrial newsletter to be sent by e-mail, so, from early 2017, we are planning to start a monthly e-newsletter. We are already present on LinkedIn with an industrial showcase page (www.linkedin.com/company/esrf-for-industry).
Fig. 143: The event "Re-Industrialisation of the EU", organised as part of the Slovakian EU Presidency, offered an opportunity to discuss how research and innovation can be pushed forward in Europe. The ESRF, as one of 9 partners in the "RI Village", jointly organised a session and a booth to highlight the role of research infrastructures in European innovation. The booth attracted a delegation of the European Commission.
ESRF will also be present at a wide range of events during 2017, often in collaboration with other synchrotrons and research infrastructures (Figure 143). For this we are leveraging partnerships in H2020 and national projects: Nano-Science Foundries and Nano-Analysis (NFFA) and IRT Nanoelec.
Exciting times are ahead. The industrial activity is in good health and the future is looking bright, with new projects and new strategies to attract potential clients. So watch this space!
E. Mitchell